The ultimate guide to child health insurance
Mali x Partner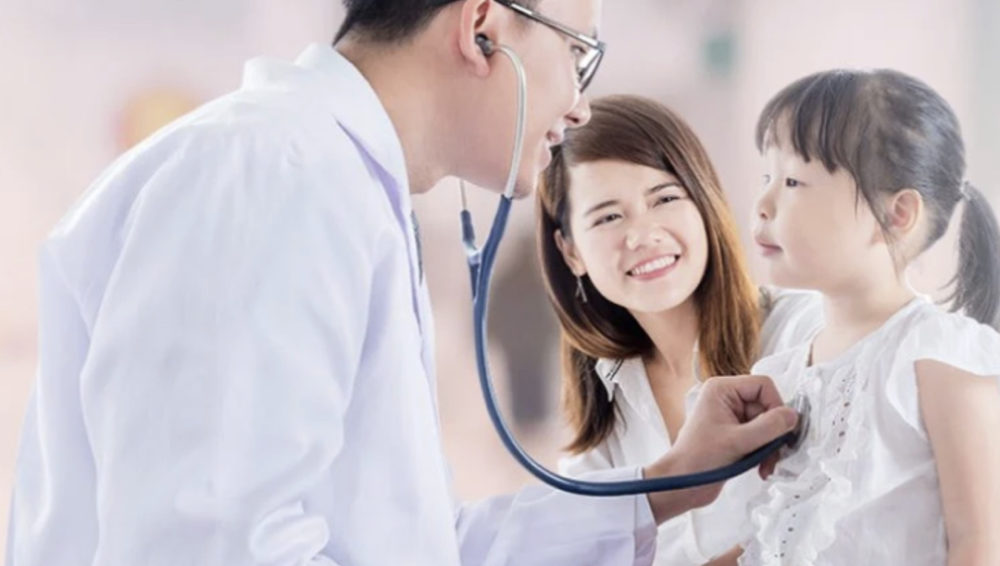 Most children breeze through their first few years with no serious health issues, but others need to see their doctors so often that most insurance companies don't offer health plans for children as part of their plans — it's isn't profitable.
This is why we teamed up with Rabbit Finance, to find the few companies that do, and introduce plans that may be suitable for Your Child.
The benefits of insuring Your Child
Having a newborn and raising a child comes in tandem with some unexpected expenses and bills – one big one can be the costs of hospitalization. Plus children tend to have a lower pain threshold than adults, and sometimes the best way to alleviate their pain quickly lies in the hands of a doctor. Having insurance to take care of the hospital expenses will give you a peace of mind, which plays a significant role when it comes to taking care of an infant. Your Child will likely benefit from stress-free parenting.
When should I get health insurance for Your Child?
If you choose to insure Your Child, keep in mind that the best time to get insurance for a baby is as soon as possible. This is because, assuming that the child was delivered smoothly without any complications, their bill-of-health is still clean. 
Can I insure Your Child while still pregnant? 
According to Thai law, no insurance can be effective until a birth certificate is issued at 15 days old. However, you can talk to an insurance agent about a plan during pregnancy and complete the purchase on Your Child's 15th day of life. This will save you from needing to read and comprehend any complicated conditions and fine print during one of the busiest and overwhelming phases of parenthood.
Factors to consider before buying insurance
Length of coverage: There are two main types of insurance plans: term and whole life. Term insurance is significantly cheaper and easier to get, and will only cover Your Child for a limited number ofyears until the policy expires. Whole life insurance will cover Your Child for life, as long as the insurance premium is paid on time for a fixed number of years. While the latter type also comes with a long-term monetary benefit, it also comes with a significantly higher price tag.
Type of plan: Some insurance providers require both the parent and child to be covered, while others will be willing to solely cover the child. If you or your spouse aren't insured, it may be more beneficial, as a family, to choose the former option. 
Understanding your plan
Insurance plans are complicated! Their complex, jargon-filled conditions can sometimes prevent you from using the benefits correctly. The last thing you want to do when you have a sick child is to stress yourself over flipping through pages of fine print to see what your little one is eligible for. 
Rabbit Finance has 2 easy-to-comprehend plans that can be purchased online: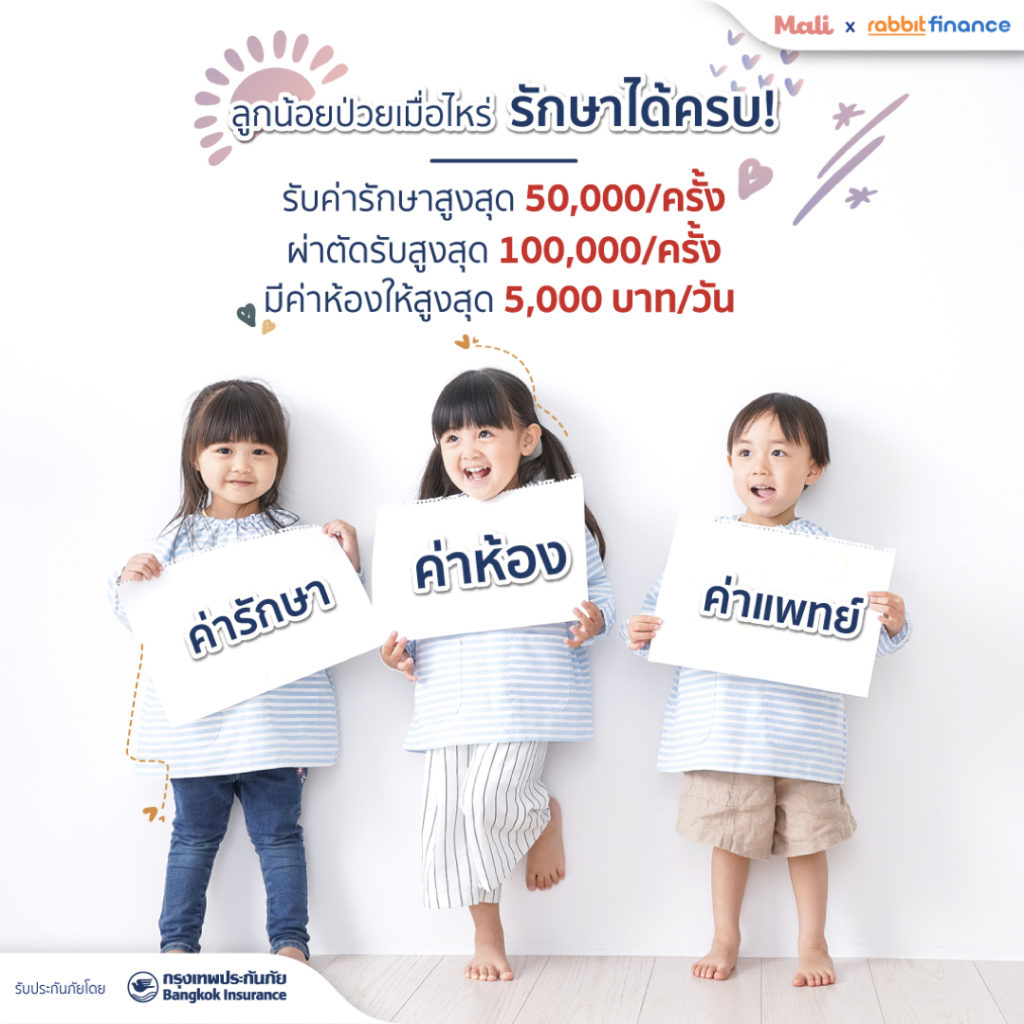 Happy Healthy by Bangkok Insurance: This simple inpatient-focused term plan comes in 5 different tiers to fit all budgets and needs. With a starting cost of just B10 per day, per-incident coverage is up to B5,000 for inpatient, B10,000 for intensive care, B10,000 for emergencies, B100,000 for surgeries, B50,000 for medical service fees per hospitalization, B2,500 daily for doctor care, and more. Additionally, you can also purchase an additional outpatient plan to get a 2,500 baht deductible for each outpatient visit for a total of 30 days a year. Insurance isn't always a one-size-fits-all deal, so add-ons can be purchased separately for the best fit.. The plan can be purchased after Your Child is 15 days old. For a fuss-free inquiry (no pressure to buy), exclusive to Mali moms, visit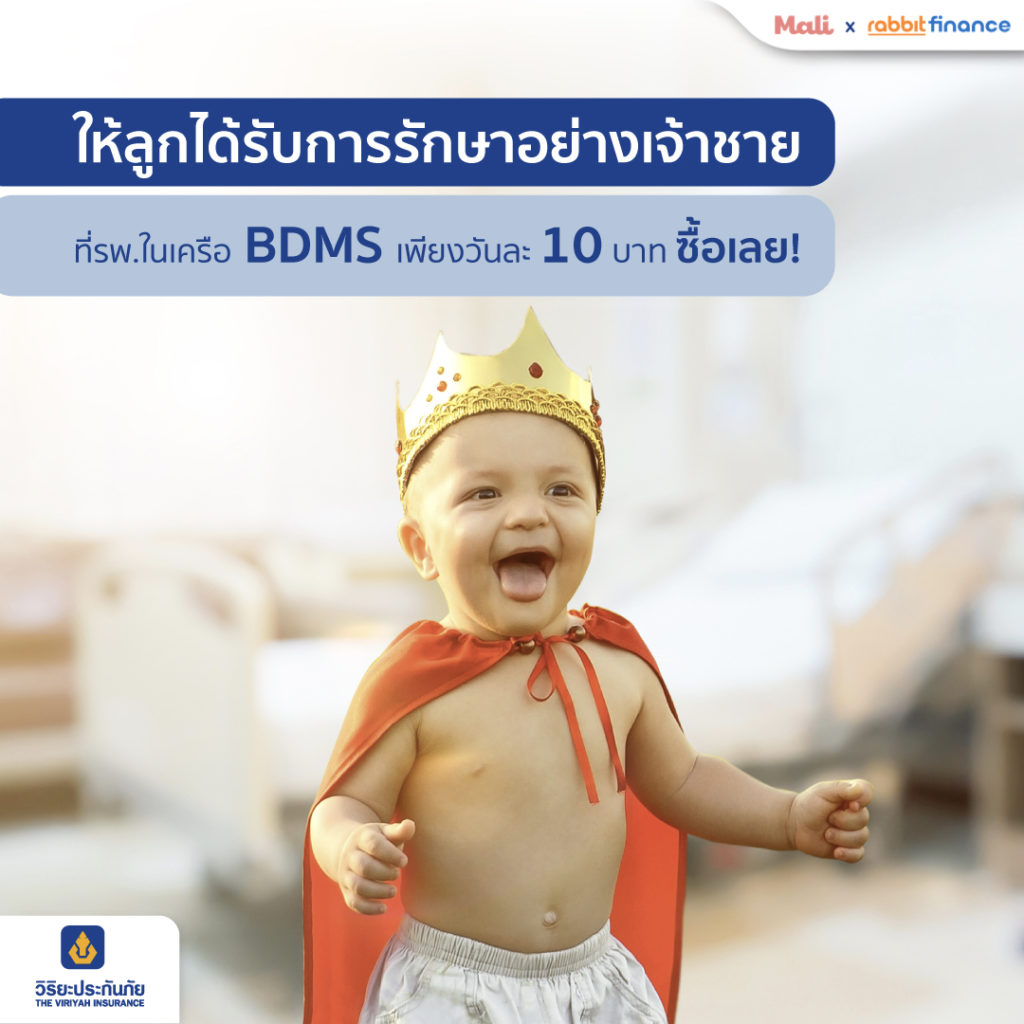 Aoon Jai Rak by Viriyah Insurance: This term plan gives you the privilege of a zero copay at all BDMS hospitals (BNH, Bangkok Hospital, Samitivej and more). Full coverage is also eligible for nursing fees, emergency fees, and doctor's fees, with up to a B5,000,000 baht deductible each time your little one needs to be hospitalized. Prices start at just B31,152/year for 15 days old to 5 years old children, with the insured eligible for extra hospital privileges, promotions and more. Rabbit Finance is providing our users with an exclusive and straightforward consultation experience. Visit

Other options
Apart from these two term easy plans, Rabbit Finance also offers whole-life options, such as Thailife Smilekids.
Thailife Smilekids is a life insurance package that comes with a savings and medical insurance plan with Day Case coverage and additional accident insurance. The maximum coverage for accidents add up to around B100,000 per year with premiums starting at approximately B30,000 per year. This plan does come with long-term benefits, but also with multiple limitations for young children
Last, there are life insurance plans from Krungthai AXA and AIA with components for children. The Krungthai AXA plan is called Healthy Child. The one from AIA is called H&S Extra. Last time we checked both come only as part of a full life insurance package and cannot be purchased online.
To get your insurance online, you can contact Rabbit Finance by clicking on the button down below. They are also offering installment plans with 0% interest for the first 10-months.


Still undecided? We asked other parents to weigh in on their experiences with infant health:
Kin & Vivienne Mekunwattana 
Parents to Nora (9 months) 
As a first-time parent, would you bring Nora to the hospital if she displays a mild fever? 
Yes. It's hard to say why without actually experiencing it, but I'd say the first time is always scary. We've had some other cases where she had her first stuffy nose and we were already hyperreactive to that. If it had continued on for more than 1 night, we would have probably gone. It's probably just that first child, first time kind of uncertainty – worrying that there might be a bigger reason behind the fever than a normal illness.