Baby's first doctor visit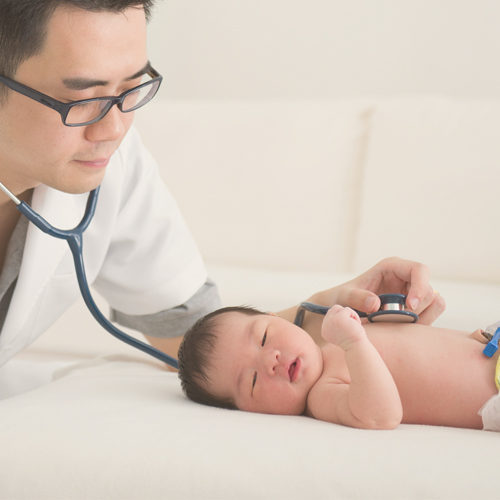 After birth, the doctors will want to see Your Child consistently, especially during the first 2 years of life as this is when most major developments occur.
During the first year, doctors advise that Your Child have at least 6 visits. These visits are usually scheduled for the following dates: 3-5 days, 1 month, 2 months, 4 months, 6 months, 9 months, and 12 months. These visits serve as general check-ups and vaccination appointments and are unrelated to injuries or illnesses. You will also be able to ask the doctor any questions you may have about Your Child's health. These visits are not intimidating, so if you're overwhelmed, be assured that they get easier over time.
What to expect?
These visits are usually straightforward and often involve a routine check-up, along with a conversation with the doctor about navigating the waters of being a new parent. The doctor will advise on procedures such as feeding, hygiene and address any of your questions and concerns. Some parents find it helpful to come prepared by writing down a list of questions they have before the visit. Some good questions to ask include:
How is Your Child's development in comparison to the standard growth chart, and how can we support these areas of development? 
How many hours should Your Child sleep, and what type of sleeping pattern should be followed?
How much breastmilk or formula should Your Child drink? 
What to do when Your Child falls sick? 
Which vaccines should Your Child receive?
During the first visit, the doctor will perform a basic physical check and will keep records of the following:
Measurements, namely height, weight, and head circumference. 

Your Child's progress during day-to-day behaviors and activities such as breastfeeding, diaper-wetting, sleeping, and reflexes. 

General health vitals such as heart rate, lung sounds along with examining body parts such as the mouth, ears, eyes, and genitals. 

Skull development and head roundedness to ensure that the soft spots on Your Child's head, known as fontanels, close up at a healthy rate. 

Completed vaccinations.
After the visit
When you get home, keep Your Child's medical records in a safe place. It may also be helpful to jot down the doctor's recommendations in note-form so you won't forget as time passes.
Verified:
Dr. Piyawut Kreetapirom, MD. (31 March 2021)
Sources: