Modeling behavior: how children copy their parents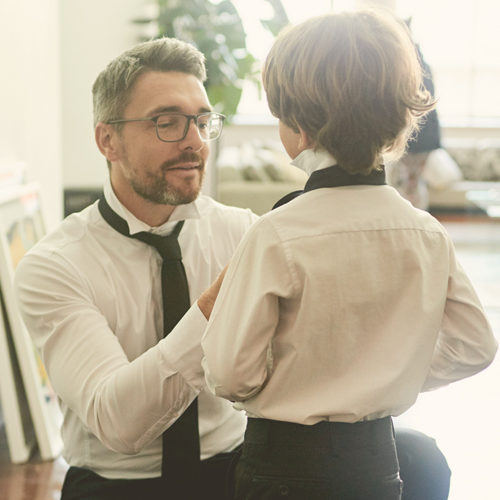 All normal children try to copy what their parents are doing. Children mostly learn by watching and trying to imitate what an adult does. Sometimes, the person they copy doesn't have to be the people around them — models can be friends, teachers, or even movie characters.
What is modeling of behavior?
Behavior modeling is a natural learning process whereby someone observes the behavior of another and then imitates it. It is sometimes called observational learning or social learning. This form of learning needs no direct instruction, and most of the time, the model doesn't even know that someone is learning from them.
There are four steps in modeling of behavior:
Attention

: Your child is observing what you are doing

Retention

: The child understands and remembers your behavior

Reproduction

: Your child tries to replicate what they remember

Motivation

: This is what prompts your child to imitate the action — the more your child looks up to the model, the stronger the motivation (that's why babies copy toddlers and teenager popstars)
Which behavior do children model?
Children are more likely to model a behavior where there is some form of reinforcement for it. For instance, if your child sees another child jump down the stairs and get praised for it, they are more likely to copy this behavior. But if the child was scolded or ignored for jumping down, they are less likely to copy the behavior.
While they mostly learn from you and other kids around, children can also learn from YouTube videos and movie characters. We, therefore, should be mindful of what a child watches. On TV, bad and aggressive behaviors are often reinforced, which means your child may tend to imitate them. 
Tips for using modeling to teach positive behaviors:
Be a good role model: You are your child's first and most important role model. They are always observing and learning from you every day — even when you are not aware of it. So, make sure you practice what you preach. Be sure that your actions show them kindness and love, model compassion and helpfulness, and teach them positive ways of interacting with people and the world around them. If you want your child to speak quietly, speak quietly. If you want your child to eat vegetables, eat vegetables.
Point out the positives:

Reinforce and acknowledge positive behaviors. So, you have to look out for the positive behaviors in your child and other people around and praise them. In other words, talk about the good things you see people doing.

Be mindful of your child's surroundings: Do all you can to surround your child with situations where positive behaviors are reinforced. Ensure that they don't stay where there are people or activities that exhibit negative behaviors. If you find yourself in such a place, move.
Avoid exposure to negative influences: Keep your child away from television shows and movies, children under the age of two should not be exposed to screens at all. Older children can only watch with adults for an hour a day. Try to limit any interactions between your child and other children or adults that provide negative modeling. Instead, work to provide more positive models for your child. 
When it can't be avoided, talk about it: Always try to avoid negative modeling situations, but if your child unavoidably witnesses one, use that opportunity to teach them. Talk about what constitutes acceptable and helpful behavior, what it looks like, and why the negative behaviors are not acceptable. Children also learn from listening.
Verified:
Ketsupa Jirakarn (Mental health specialist) (31 March 2021)
Sources: