Month 8: How to co-parent
Baby monthly update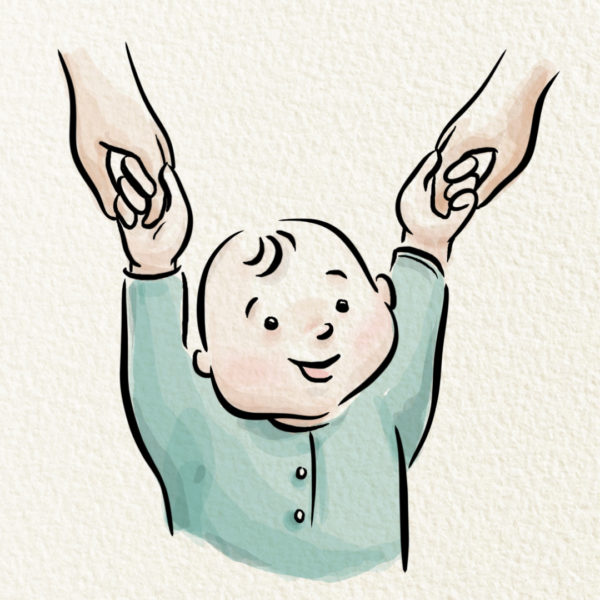 Raising a child with your spouse or parents requires continuing discussions about each other's views on parenting values, discipline, routines, and support.
Consistency from all parties is key to your child's mental stability. 
How are you and your baby
Your Child is becoming more physically agile, playing with toys while sitting upright with no support or even crawling around. The little one's exploration of the surroundings becomes more refined — most babies can now recognize different shapes, sizes, textures, and sounds at this age. 
Your Child may now also be able to stand with support if the legs and core muscles are strong enough to do so. Don't forget to give the little one plenty of opportunities to practice. 
While absorbing information like a sponge, babies at this age, are now forming their unique way of responding, emotional control, and languages through face-to-face interactions with adults. So, it might be another chance for you, your spouse, and helpers — to discuss the best way to create an enabling environment together for the little one. 
What is co-parenting
Co-parenting is the most natural form of building a family — the father, mother, and other members of the family take on the duties of caring and socializing with the children for whom they share equal responsibility. 
Co-parenting often involves having members of the family discuss and agree on the same parenting values essential for the child. So, regardless of who they spend time with, Your Child receives the same disciplines, interactions, and routines. Some of the details include topics like spoon-feeding, baby-carrying, and discipline practices. The questions that go into the discussions may sound like this: "Do we want to let Your Child choose what food to eat on the plate, or do we mix them up and spoon feed the little one?" Others might involve different topics, such as screen-time or potty training. 
Since co-parenting often arises when there is spousal separation or involves generational conflicts, it's easier said than done. 
How to co-parent in your child's interest
Communicate differences respectfully: Regardless of what you, your partner, or Your Child's grandparents think, it is important to put the child's need for learning and development as the goal when finding a solution. Setting clear and common boundaries for children leads to fewer behavioral problems in their toddler years. On the other hand, changing what the child is allowed or not allowed to do can lead to confusion, frustration, and most times, crying. This is why respectful and regular communication between all members is so important.
Provide consistency: As with everything else, receiving consistent responses for their behavior helps children understand their roles — first in the family and, later on, in society. Children are usually calmer and more emotionally stable if they know what to expect from adults. So, regardless of who the little one is with, Your Child should have the same daily routines, responses to behaviors and demands, and treatments, as a member of the family.
Why you should be consistent with your child
Parenting is highly subjective and sensitive, and the approach can vary from one household to another. At this age, Your Child will continue to learn mainly by interacting with adults. 
Being treated with the same respect, understanding, and support from everyone in the family sets a good foundation for healthy socio-emotional development. 
Receiving consistent and repetitive guidance from all members of the family will help children focus and learn the behavior that you'd want Your Child to develop.
Verified:
Ketsupa Jirakarn (Mental health specialist) (1 November 2023)
Sources: