Toilet training
Baby health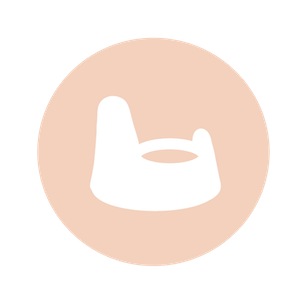 Many parents are unsure about when to start potty training. To find the right time for your child, it's important to watch for specific signs.
Signs for toilet training
The following are signs that indicate your child might be ready for toilet training:
Understands and use words about potty, pee or poo

Makes the connection between the urge to pee or poop and using the potty

Keeps a diaper dry for 2 hours or more

Gets to the potty, sit on it, and then get off the potty

Pulls down diapers or underpants

Show an interest in using the potty or wearing underpants
When are children ready?
Most children begin to show signs that they are ready when they're between 18 and 24 months old, though some may not be ready until later than that. And often boys often start later and take longer to learn to use the potty than girls.
How Long Does Toilet Training Take?
Teaching a toddler to use the potty takes around 3 to 6 months. If you start too soon, the process tends to take longer and ends up more frustrating for both, you and the baby. And it can take months to even years to master staying dry at night.
Tips for Toilet Training
You can help your little one by teaching about the process and by being encouraging. Here some tips: 
ake your child to the potty on fixed times, for example, 30 minutes after a meal or every 2 hours. 

Show your child how you sit on the toilet and explain what you're doing, your child learns by watching you. You also can have your child sit on the potty seat and watch while you use the toilet.

Praise all attempts to use the toilet, even if nothing happens.

If children don't want to use the toilet, don't force them.

If accidents happen, it's important not to punish potty-training children. Any fear is counterproductive. Instead be friendly, optimistic, and go to the toilet together. 

Use the words to express the act of using the toilet ("pee," "poop," and "potty") with a positive connotation. 

Ask your child to let you know when a diaper is wet or soiled.

Identify behaviors so that your child can learn to recognize the urge to pee and poop and bring them into the bathroom.
Potty Types
There are two basic options:
a small standalone potty chair with a bowl that can be emptied into the toilet.

a toddler-size seat that can be placed on top of a toilet seat that will let your child feel more secure and not fear falling in. If you choose this, get a stepping stool so your child can reach the seat easily.
Common Toilet Training Problems
Every child is different and some take more time to talk and other more time to use the potty. Many kids who've been using the potty have some trouble during times of high stress, for example when dealing with a new sibling. Leave children all the time they need to get ready and support them with a regular procedure and lots of love.
Verified:
Dr. Piyawut Kreetapirom, MD. (1 July 2020)
Sources: