Oral care for babies
Looking Forward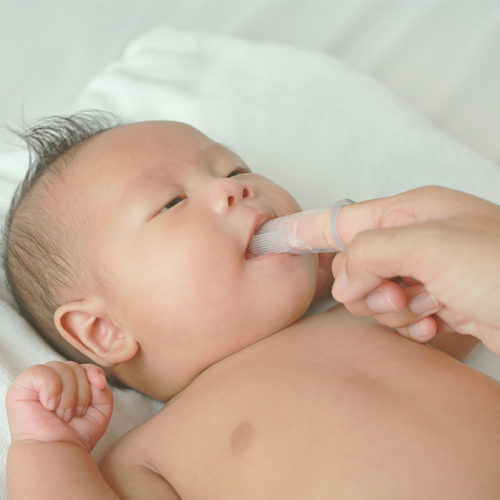 Oral care for babies is important, and you should start even before the teeth start popping up. 
Ensuring good oral health in infants and children can prevent or reduce tooth decay (cavities). Moreover, when you start your baby's oral care early, Your Child will easily get used to the daily routine.
Why you need to start oral care for your baby early
Your Child's baby teeth may look small, but they're very important for their wellbeing. Those tiny teeth don't just make your baby cute when Your Child smiles but also act as placeholders for adult teeth. Moreover, Your Child uses them to chew food and also to make clear speeches. When they are damaged by cavities, your baby will have trouble eating or speaking properly, as well as with playing and learning.
This is why it is important to take care of your child's dental and oral health. The most common cause of tooth decay is sugar and bacteria. Bacteria change the sugar residue into acid deposits that erode the tooth surface and eventually cause cavities, toothache, and infection. Cleaning the teeth regularly with fluoride helps to remove those sugar and acid deposits. 
Caring for your baby's gums
You should start caring for Your Child's gums right from birth. Of course, since the teeth haven't come out in those early weeks, the care won't involve a toothbrush and toothpaste.
So, this is what you should do: use a soft, moistened washcloth or piece of gauze and gently wipe down your baby's gums. Wipe at least twice a day, but it's preferable to wipe after feedings and before bedtime.
This helps to prevent bacteria from clinging to your baby's gums. Accumulation of bacteria on the gums can damage the infant teeth as they come in.
Brushing baby teeth
When the first baby teeth come in, start brushing twice a day with a soft, small-head toothbrush and fluoride toothpaste, in the amount suggested by The American Academy of Pediatric Dentistry:
Once the first tooth appears (younger than 3 years old), a spread of thin layer of toothpaste on the toothbrush.

3-6 years, use toothpaste the size of a green pea.

6 years and above, spread a full layer of toothpaste along the length of the toothbrush.
Dry brushing is recommended for children who have not yet learned to spit. Brush your baby's teeth without any water and use a clean cloth to wipe off the toothpaste after brushing. Once your child's learned to spit, spit the toothpaste out without any water. Refrain from eating or drinking for 30 minutes safer brushing.
Baby dental problems
As with adults, babies can have dental problems, especially when their oral health is neglected. The most common dental problem in kids is tooth decay. According to the CDC, about 1 in 5 children aged 5 to 11 years have at least one untreated decayed tooth.
Other common oral health problems in babies include:
Tooth sensitivity

Gingivitis and gum disease

Orthodontic problems

Baby teeth loss

Excessive thumb sucking

Bad breath

Grinding

Dental anxiety and phobias
When to start seeing the dentist
Usually, you should visit your dentist when the 1st tooth appears, before your baby turns 1 so that any dental problems can be spotted early. Before then, you could also talk to your dentist about using topical fluoride on your baby's teeth every 3-6 months before your baby turns 12 years old.
Of course, you can visit the dentist at any time if you notice that your child has a dental problem or a congenital malformation.
Verified:
Nachsamin Patchrawiphakkit , D.D.S. (18 February 2022)
Sources: