Children on screens often miss important life lesson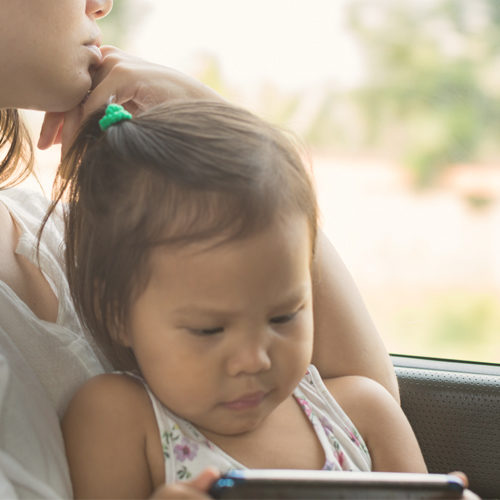 Children who are watching videos or TV are often not gaining important life experiences. What some don't know is that social real-life experiences are what build a child's brain, character, and social skills. And on top of that, screen time has some adverse health effects.
Negative downsides of screen time
Too much screen time can:
Delay speaking: This may

lead to poor language skills

Lead to weight and vision problems: I

t can also cause other health problems, such as a "smartphone thumb"

Lead to poor social skills:

If a child doesn't interact with others, they will lack the necessary social skills for learning and interacting with others

Cause poor sleep: 

If it's before bedtime, the child becomes restless and has difficulty falling asleep
Replace screen time with real play
The problems associated with screen time are numerous, so any time you replace screen time with real playtime, you're doing Your Child a favor. Here are some tips that can help you:
Don't allow electronic devices in your child's bedroom:

 There is no way to control your child's use of electronic devices if you allow them to be kept in the room.

Make screen time a privilege:

 You can make them understand that there is a limit to how long they can watch videos. Set a strict time limit and routine, such as 30 minutes a day before dinner. For children less than 2 years old, don't allow screen time at all. Preschoolers ages 2 to 5 should have no more than 1 hour of screen time each day.

Be your kid's playmate: You can be your child's playmate if there are no kids around. There are a lot of games you can play with Your Child, both indoors and outdoors. Children learn a lot when they play with others, including adults.
Encourage the use of books:

 You can encourage your child to develop a passion for reading books. One of the ways to do that is to start reading picture books to the child from infancy. 

Get the kid to help you out with chores:

 Keep your child busy by asking them to help out with some chores. Children like to mimic what adults are doing and are always eager to join. So, if you're cleaning, they can help you dust the furniture.

Provide kids the toys they love: 

Find out the kind of toy your kid loves and get it for them. Good toys don't only keep the child busy; they also inspire creativity.

Encourage your child to play outdoors:

 It is good to encourage your child to be physically active, and one way to do that is to have them play outdoors.

Be a role model:

 You are expected to lead by example because children often do what they see adults doing. If you are addicted to TV or other electronic media, there are chances that your children will follow your lead. So, practice what you preach.