C-section healing: how to treat your scar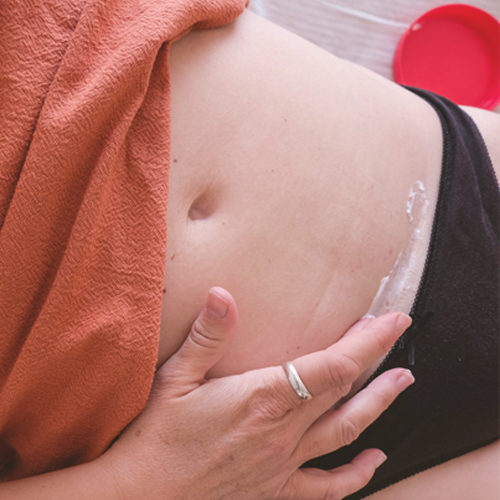 All you need to know to ensure that the incision wound heals well and scar tissue is minimized.
There are many reasons to deliver through a cesarean section. Whatever the case, a C-section involves an incision on your abdomen and uterus, which would have to heal.
Most C-sections heal nicely, leaving only a faint line just above the pubic hairline.
Types of C-section incisions
A C-section involves a cut on the abdomen and another cut on the uterus. For the abdominal incision, your doctor can make either of these two types of incisions:
Horizontal incision (bikini cut)

. It is a horizontal cut just above the pubic hairline. Both doctors and moms prefer it because it is less painful, and appear less visible after healing. With this type of abdominal incision, your doctor will also make a bikini uterine incision — a low transverse incision.

This type of uterine incision is less likely to split during labor, so you can attempt a vaginal birth (VBAC) in your next pregnancy.

Vertical incision (classical C-section)

. It is a vertical cut on the middle of the abdomen

from between your navel to your pubic line. This type is not often used these days because it is more painful, takes longer to heal, and leaves a noticeable scar. 
Closing the wound
After bringing out the baby, the doctor will close both the uterus and the abdomen. The doctor closes the incision on the uterus with dissolvable stitches. For the one on your skin, the doctor will close it with one of these three methods:
Staples

. This method is faster but more likely to fail. The staples are removed about a week after the C-section.

Stitches

. It takes the surgeon more time but is less likely to fail.

Surgical glue

.

The surgeon applies glue over the incision to provide a protective covering, which will later peel off when the wound heals. This leaves the least visible scar, but it doesn't work well for every type of skin.
Taking care of C-section incisions
To properly care for the incision to prevent infections and complications, these are some of the things you can do:
Gently wash the incision with soapy water daily and pat dry with a towel.

Expose it to air whenever you can.

Wear loose-fitting clothing.

Don't exercise, but try to stroll around

Attend all doctor's appointments so the doctor can detect any complications early.

You may apply a heating pad to your abdomen at 15-minute intervals.

Take the pain relievers prescribed by your doctor.
What you should watch out for
While you take care of your incision, look out for signs of an infection and other complications. Watch out for any of these:
a fever over 100.4°F (38°C)

pus coming from your incision

increased pain, redness, or swelling

prolonged numbness

shooting pain in your pelvis or down your legs
Whatever you notice, report to your doctor.
Risk factors for C-section dehiscence
In some rare situations, a C-section incision might re-open for one reason or another — a condition doctors call C-section dehiscence. Factors that may increase the risk of dehiscence include:
Vertical incision

Closure with staples

Strain and stress

Reduced blood supply

Severe anemia

Poor healing

Infection
When to see a doctor
You need to see your doctor immediately if you notice any of these:
severe abdominal pain

heavy vaginal bleeding with large blood clots

bleeding from the incision site

foul-smelling vaginal discharge

redness or swelling around the incision

a foul smell from the incision area

leaking or pus around the incision

bulging or hardness at the incision site

a bulge or lump on your lower stomach

painful urination

painful bowel movements

severe constipation or the inability to have a bowel movement

a fever over 100°F

dizziness

low blood pressure

painful urination
Minimizing scarring
In some women, the skin incision heals by forming a thick, irregular scar. In this situation, your doctor may recommend any of these:
Scar massage

: Regularly massaging your scar after it has healed can encourage blood flow to the area, which can help the scar to fade. You may use vitamin E or silicone gel for this — massage in a circular motion using your index and middle finger for 5 to 10 minutes a day.

Silicone sheets or gel

: Research has shown that silicone can soften and flatten scars and reduce scar pain.

Laser therapy

: This treatment can soften and improve the appearance of scars, as well as remove raised scar tissue.

Steroid injections into the scar

: This helps to reduce inflammation and pain, as well as improve the appearance of the scars.
Scar revision: If the scar is very large, your doctor may suggest scar revision — re-opening the scar, removing damaged skin to make it less noticeable, and closing it again so that it blends with your surrounding skin.
Verified:
Dr. Wanwadee Sapmee Panyakat (OB-GYN) (1 July 2022)
Sources: