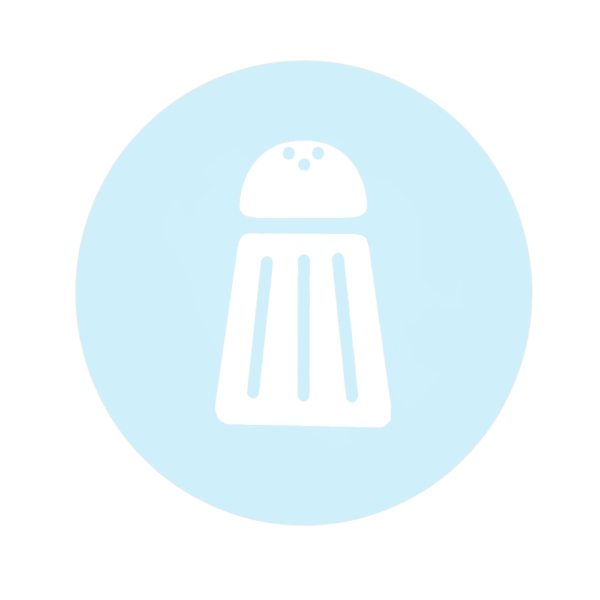 Salt is commonly used to flavor or preserve food. Once inside the body, salt separates into sodium and chloride ions. Too much sodium is not healthy, which is why young children should consume only tiny amounts of salt if any.
How much salt does a child needs
Normally, young children need only a very small amount of salt in their diet. But it is very easy to have too much of it since salt is added to almost every food you buy, including bread and biscuits. Babies, in particular, shouldn't eat much salt because it isn't good for their kidneys.
Here is the maximum recommended amount of salt for babies and children:
Up to 12 months:

less than 1g of salt a day (less than 0.4g sodium)

1-3 years:

2g of salt a day (0.8g of sodium)

4-6 years:

3g of salt a day (1.2g of sodium)

7-10 years:

5g of salt a day (2g of sodium)

11 years and above:

6g of salt a day (2.4g of sodium)
What you should know
Breastfed babies get the right amount of salt through breast milk, and infant formula also contains a similar amount of salt to breast milk. When you introduce solid foods to your baby, do not offer them ready-made foods that are not specifically made for babies because such foods are often high in salt. As a rough guide, avoid buying foods that contain more than 0.6g of sodium per 100g, as this is considered to be high. To get the amount of salt in foods, multiply the amount of sodium by 2.5. For instance, 1g of sodium per 100g is 2.5g of salt per 100g.
Food sources of salt
The following are foods that commonly contain salt:
Bread

Bacon

Sausage

Chips with added salt

Crackers

Crisps

Bottled sauces

Takeaway foods 

Microwave meals

Meat pies

Salted nuts

Flavored popcorn

Processed cheese sticks

Chicken nuggets

Vegemite sandwiches

Instant noodles
How too much salt can hurt children
Eating too much sodium is associated with higher blood pressure in children and teens, and the effect is worse in obese or overweight children. Kids with high-sodium diets are almost 40 times more likely to have elevated blood pressure than kids with lower-sodium diets. Furthermore, there is a link between high blood pressure in childhood and high blood pressure and heart disease in adulthood.
How to reduce the amount of sodium children consume
Eat healthily — go for fresh, unprocessed foods, such as fruits, vegetables, fresh fish, and poultry

Instead of salt use lemon juice, garlic, vinegar, and herbs

Remove the salt shaker from the dining table and out of your child's sight

Ask at restaurants to make meals in lower-salt versions

Avoid fast foods as they are generally high in salt

Cut back on the use of gravy, soy sauce, stock cubes, and bottled sauces
Once your child is two years or older and able to process more sodium, you can make a small amount of salty snacks an exception for weekends or special occasions.
Verified:
Dr. Piyawut Kreetapirom, MD. (22 July 2021)
Sources: